Free iPhone app
Hire An Act app available on the Apple Store for free:
Hire An Act have launched a new iPhone app which will help you choose your own Entertainment. You can download this app for free from the iPhone store for free. An Android version will be released later in 2017 along with a brand new website.
What does it do?
We are inviting Bands, Tribute Acts, Professional Singers, Comedy Acts, Musicians and Disco's to upload their own profiles for free. We will be checking these Acts to make sure they are professional and experienced.
Once each new act is approved you will be able to:
View the Acts promotional pictures
Read the Acts description of their show
View a sample Set List to give you an idea of the music each Act can perform
View a video of each Act performing
Search for available Acts for a specific date
Send a booking request directly to the Act
Add an message giving instructions or any special requests
Utilise a one click payment method or pay each Act cash on the night, or pay via invoice.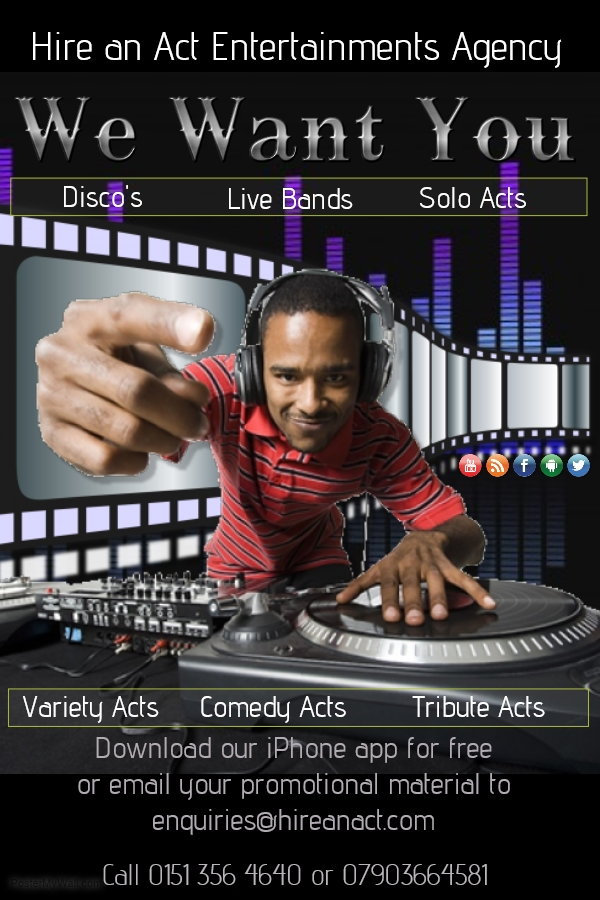 How do you register?
Download the app for free from the apple store by searching for Hire an Act. Once registered as a Customer you will be able to browse through all the Acts currently signed up for this new service. You can refine your search by clicking the refine symbol which is located at the top right of the browse screen. Here you can select different types of acts including Live Bands, Tribute Acts, Professional Singers suitable for Weddings, Special occasions, and for Hotels, Bars and Restaurants.
Will we provide help, advise and support?
Yes. We will be available for bespoke Entertainment advice on our office number which is 0151 739 8502 or via our emergency mobile number which is 07903664581. We will give you advice on booking the best Acts available to suit your budget.
Posted by Graham on 06/27/2017